Go to bag
"Cotton Non-Wired Non-Padded Printed Bra " added to Bag.
₹ 0
Go to Wishlist
"Cotton Non-Wired Non-Padded Printed Bra " added to wishlist.
₹ 0
Panties :
Transform your ladies' panty collection with a feminine touch and pretty designs that'll serve the fashionista within you. Now's a great time to upgrade your old panties to intricately designed styles that comprise hipster panties, boyshorts, thongs, bikini panties and more. Clovia presents to your
...
Read more

Buy Panties Online
Panties for Women - The Style Guide
Women's panty has evolved its template to a more style-oriented appeal while keeping the comfort intact. The very existence of a panty is to provide a hygiene covering so it can't come as an added feature. The panties are worn to cover the crotch area, and you've got to be cautious with the fabric choice. Clovia believes comfort is the core aspect of a panty and keeping that in mind, our designers bring to you a range of panty fits varying from hipsters, bikinis, thongs, boyshorts and more. With the innumerable styles, designs, patterns and prints you are likely to be spoilt for choices that Clovia gives you for women's panties.

Today panties are not just worn for comfort and hygiene, many new aspects have been added to the need list of women's panties. Now panties have many new features to offer such as results like shapewear, period panties to avoid staining, activity panties for various activities and last but not least sexy panties to feel like a diva.


How To Measure Panty Size?
You need to know two things, hip size & waist size. Here are a few simple steps to help you determine your perfect panty size –

Step 1: Determine Hip Size
Take a measuring tape and wrap it around the fullest part of your hip, it should be a snug fit but not tight. Note down the number you got.

Step 2: Measure your waist
Bend at the sides, the area where your body indents are your natural waist. Wrap a measuring tape around your waist – snug, but not tight. Measure around 5cm below the natural waist where the waistband of the trousers normally sits on the body- this is your waist measurement.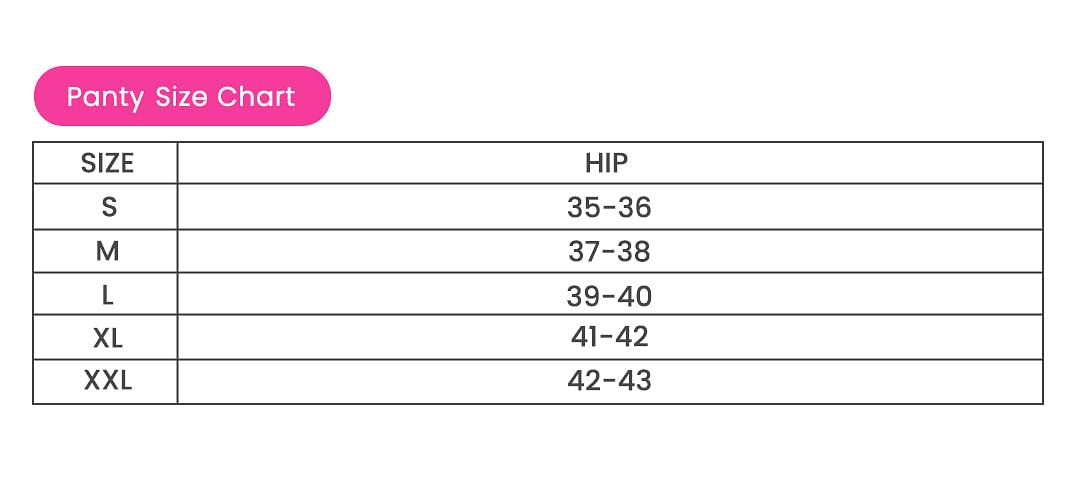 Now note the numbers and find your fit using Clovia's Panty Size Chart. If you fall between two sizes consider the larger size.
Let's get you acquainted with several styles of women's underwear available online at Clovia that'll suffice your needs:


Types of Ladies Panties / Underwear
Before shopping for panties, it is important to understand the types of panties available:

1. Bikini Panties: Bikini panty is the style that immediately strikes our mind when we think about the gorgeous sandy beaches and crystal-clear blue waters. Well, the good news is that you can wear these stylish women's panties on an everyday basis too other than barely as beach wear.

Tip: Ideal for low-cut jeans or for women who want to flaunt their hourglass figure.

2. Thongs: Having no rear coverage with a triangular shaped front, thongs are also highly functional if you want to avoid visible panty lines under body-hugging outfits.

Tip: This panty style offers a very clean and smooth silhouette even under the tightest of outfits, boosting your overall confidence.

3. Hipster: Hipster is the most common underwear style of panties, thanks to its ability to fit all body types. Hipster panties provide decent coverage to the crotch and rear area, making them the best option for everyday wear.

Tip: If you have a slightly bulging tummy, you should opt for high waist hipster panties as they help to control the bulges, providing a flattering figure.

4. Boyshorts: These panty styles provide full coverage to the rear area which goes all the way down to the hips, keeping it modest yet sexy.

Tip: Not comfortable with wearing thongs under bodycon outfits? No problem! Try boyshorts instead. They are basically the female version of the boxers with an amazing fit.

5. Boylegs: They are very similar to boyshorts, but have longer leg openings than the former. You can wear them under your short dresses and skirts.

Tip: You can replace your boyleg with your cycling shorts. With longer leg openings and comfortable fabric, they make the perfect alternative to your conventional cycling shorts.

6. Seamless- This panty style is designed with laser cut-edges for a more seamless fit. Seamless panties provide decent rear coverage and are the best way to get rid of visible panty lines.

Tip: Now you can wear those fitted clothes with confidence because this style of panty will provide a no-show of panty lines and will emphasise your curves instead.

7. Maternity- This panty style was introduced for the comfort of pregnant ladies. It is designed with support panels that brilliantly perform the function of supporting the belly without any compression. The fabric is super soft & stretchy enough to expand in order to accommodate the growing belly.

Tip: All the new moms can now get their hands on panties that are best suited for their pregnancy days.

8. Panty Styles Based on Their Coverage:

Full Coverage: You can expect full rear coverage in panty styles like boyshorts & boyleg.
Medium Coverage: You can expect medium rear coverage in panty styles like hipster & bikini.
Low Coverage: You can expect no rear coverage in panty styles like thong & G-string.


Make Informed Choices Before You Buy Women's Underwear
Choose Women Panties According to Occasions
If you want to spoil yourself with choices when it comes to your panty collection, you can diversify your options with Clovia. You will get a plethora of styles in varied prints and fabrics and you can shop for them as per the occasion. Let us present it to you to make your choice easier:


| Occasion | Panty type |
| --- | --- |
| Daily wear | Hipster, bikini and boyshorts |
| Special occasions like marriage and honeymoon | Bikini, thongs and G-strings in lace and satin |
| Holiday | Bikini and thongs |

Choose Panties According to Your Dresses
You definitely do not want to experience an oops moment due to a mismatch between your dress and underwear. To avoid such situations, choose panties as per the dress you are wearing:


| Panty type | Dresses |
| --- | --- |
| Bikinis | Ideal with skinny jeans |
| Hipsters | Ideal for everyday outfits |
| G-string | ideal with skin tight clothing |
| Thongs | Can be worn with tight fitting shorts |
| Boyshorts | Compliments bodycon dresses |
Choose Women's Underwear According to Body Type
You need to determine your body type that will help you choose a panty that will fit you perfectly.

1. Triangle shape: If the bottom half is fuller as compared to the top half of your butt, a high-rise hipster or boyshorts can help you solve the problem of riding of the panty hemlines.

2. Square: If you want to give a curvy appearance to your square butt, go for high rise panties with a hemline run in the middle.

3. Inverted triangle: This butt shape means that the butt is broader at the top and narrower at the help and you should go for such briefs offering full coverage.

4. Round: Avoid full-coverage panties as they might not fit. Rather, go for thongs and g-strings.


Buy Clovia Panties Online
Know what's the right ladies' undergarment for you now? Then wait no more and shop from Clovia right away. We understand the changing trends and thus have curated a wide range of women's panties, suitable for every purpose and body type. We have broken the monotony of those basic blacks, whites, and nudes with our stylish designs in amazing colours and patterns. You can also go through our panty size chart to get the perfect fit and style without any woes.


FAQ's Related to Ladies Undergarments:
Q1. Which panties should pregnant women wear?
A1. Brands are now catering to women of all phases, so pregnant women can now find some great quality maternity panties. At Clovia, you are sure to find some of the most stretchable and softest styles crafted with breathable fabric. They provide the required support without squeezing your tummy, so you and your little one can both be comfortable.

Q2. Which type of panties is most comfortable?
A2. If we talk about everyday panties, hipsters, boyshorts and bikini-style underwear are a hoot. The rest depends on the outfit you wear, for low-rise jeans, bikini panties will be a better choice to avoid any peek-a-boos. High-rise bottoms can be paired with high-waist hipster panties to avoid muffin top & side bulges, and boyshorts can be paired with short skirts & dresses considering they'll protect modesty while providing comfort.

Q3. Which panty is best for daily use?
A3. Hipsters and bikinis are two styles that are regarded highly in terms of everyday panties. The coverage and the fit fall perfectly for everyday comfort and the style suits most body types.

Q4. Which fabric is more comfortable for panties?
A4. Cotton-spandex fabric is a comfortable choice you can pick since it has stretchability that allows freedom of movement. Other than that, lace is also a rich fabric to pick considering it is gentle on the skin.

Q5. What are the best panties for a honeymoon?
A5. The honeymoon collection consists of designs best suitable for intimate moments. Bikini styles panties have intricate designs that are so eye-pleasing and perfect for the occasion. G-strings and thongs have low coverage but are appropriate for the moment.

Q6. Should I wash my panties separately?
A6. Yes, undergarments should always be washed separately with mild detergents.

Q7. How often should you change your panties?
A7. Everyday would be the best answer to keep your intimate hygiene in check.

Q8. Which type of panty is good for periods?
A8. You can find period panties on market. These panties are made of special absorbent fabric which soaks period blood and seals it inside to avoid staining.

Q9. What type of panties is good for a teenage girl?
A9. Teen panties are considered best for a teenage girl. These panties are crafted with 100% cotton fabric and the softest elastic. These panties are usually in light colours to get easily blend with uniforms. Boyshorts can be one of the best picks for a teen girl since they are better at protecting modesty than other styles.

Q10. Are there different types of panties for different activities?
A10. Yes, there are various panties available for different activities. Cycling shorts for cycling, boyleg panties or thongs for running and seamless panties to be worn under leggings to avoid visible panty lines during any kind of workout.

Happy shopping!