Go to bag
"Cotton Non-Wired Non-Padded Printed Bra " added to Bag.
₹ 0
Go to Wishlist
"Cotton Non-Wired Non-Padded Printed Bra " added to wishlist.
₹ 0
Bras :
Bad bra woes can literally exhaust you, do not worry! At Clovia, you will get solutions for all your bra problems. It is very important to wear a perfect bra that takes care of proper support, comfort, style and is affordable. You can buy high-support full-coverage bras, teen bras, bridal bra, t-shi
...
Read more

Buy Ladies Bras Online
At Clovia, explore the widest range of everyday bras and high fashion bras like full coverage bras, cotton bras, push-up bras, sports bras, plunge bras, bralettes, maternity bras and many more. It's very important to wear a bra, but modern women love to wear a bra which is functional and fashionable. At Clovia, you name any style and we have it.

Wearing the wrong bra size can affect your posture and brings many health issues like back pain, neck pain, chaffing etc. For every requirement you have a bra: for workouts, you have a sports bra, for a party, you have a push-up bra or a balconette bra. Want to wear an off-shoulder dress you are covered with a strapless bra. For new moms we have maternity bras, for new brides, we have sexy lacy bras. Clovia has served you with a variety of bras that you would love to flex. Do you know Wearing the wrong bra size can affect your posture and brings many health issues like back pain, neck pain, chaffing etc? Even not wearing a bra can cause discomfort. Before you pick the right bra for you you must know the type of bra. Read on to know which type is for you.


Types of Bras
1. T-Shirt Bra: you can wear them underneath most of your outfits without compromising on comfort, which is why they are best suited for everyday wear.

What it does: They are a must-have style for your under-fashion wardrobe. While they are specially designed for body-hugging outfits.
When to wear it: Everyday wear
Breast Type: All types

2. Push-Up Bra: What it does: If you want to boost the appearance of your cleavage, push-up bras are your thing. They look best under party & bridal outfits.

You can choose push-up bras starting from levels 1 to 3 depending on the type of drama you need.
Level 1 push-up pads are best for full or semi-full breasts where only a gentle push is required for support.
Level 2 push-up pads are suitable for women with semi-full or small breasts as it gives an enhanced shape without drawing a lot of attention.
Lastly, a level 3 push-up is best for women with small breasts who crave the appearance of bigger breasts. They have extra padding at the bottom to give a fuller appearance to the breasts and in turn, a perkier cleavage.

When to wear it: Special occasion
Breast Type: All breast shapes and sizes.

3. Sports Bra: Getting the right support while working out carries the utmost importance. A sports bra can handle the intensity of the workout and prevents sagging as well as tissue damage. However, it is also important to note that there are various impact levels of sports bras depending on the intensity of the workout.
First, there are low-impact ones that offer light support for activities like walking, yoga, pilates & strength training.
Then there are medium-impact sports bras ideal for hiking, aerobics, skiing and cycling. High-impact ones provide maximum support during vigorous workout sessions at the gym, Zumba classes, aerobics, & running.

What it does: Prevents bounce, and provides optimum support.
When to wear it: While working out or daily.
Breast Type: All breast shapes and sizes.

4. Underwired Bra: If you are semi-breasted or full-breasted, our underwired bras crafted with premium quality wires are your saviour. They lift your breasts and support them, providing a gorgeous silhouette in whatever you wear.

What it does: The underwire bra provides reinforced support and little lift.
When to wear it: Anytime
Breast Type: All breast shapes and sizes.

5. Backless Bra: Flaunt your back wearing our stunning backless bras for women that come with a soft and supportive transparent band.

What it does: The straps and band go invisible under those tricky outfits, providing a flattering look.
When to wear it: Wear it with a backless dress or a deep-back dress.
Breast Type: All breast shapes and sizes.

6. Strapless Bra: If you're going off the shoulder or wearing a tube outfit, opt for strapless bras. They are designed with silicone lining along the edges to provide support and prevent slipping down.

What it does: Strapless bras support your bra with an underwire and silicone lining along the edges to provide support and prevent slipping down.
When to wear it: wear it with a strapless dress.
Breast Type: All breast shapes and sizes.

7. Plunge Bra: If you want to wear deep-neck outfits, meet the plunge bras.

What it does: They cover nearly one-third of your breasts and have a very deep neckline, becoming your perfect mate when you want to don those daring deep-neck dresses & saree blouses.
When to wear it: Wear it with a deep-neck dress.
Breast Type: All breast shapes and sizes.

8. Bralette: If you are looking for a combination of a bra and a crop top, bralettes are here to serve your purpose. Usually made of luxurious fabric like lace, bralettes are a definition of plush and sophistication.

What it does: They are designed without an underwire and moulded cups to make you feel comfortable and also have the intensity to hold in your assets.
When to wear it: Anytime you feel like wearing it.
Breast Type: All breast shapes and smaller breast sizes because of minimal support.

Now that you are well acquainted with bra types, let's move on to the importance of a right-fitting bra.


Benefits / Importance of Wearing a Bra
They offer tremendous support, and comfort, and result in better breast shape. In fact, they aid in better breast health in the long run. Wearing a women's bra gives you the necessary confidence as well to pull off anything with ease. In short, a bra helps your breasts in the following ways:

1. Prevents sagging of breasts: As you age your breast tissues lose elasticity and your breasts become saggy. But this process can escalate and you can witness this situation at your age as well if you don't wear a bra. Bra supports are breasts and help them to stay in shape for a longer period of time.

2. Offers optimal support and high comfort: Since bras support our breasts it prevents bad posture and associated pain.

3. Prevents juggling and breasts pain: Now wearing a bra can cause a lot of jugging and as a result breast pain due to ligament tear. Bra saves you from that, hence no breast pain.

4. Enhances shape and improves confidence: Bra enhances the natural shape of breasts and improves silhouette. You feel confident in the best-fitting bra since it accentuates your curves.

5. Enhances the look of every outfit: A nice-fitted bra can make any garment look more attractive.

However, to get the most from your bra, it is important to determine the correct size in order to ensure the correct fit & form.


How to Find Your Bra Size?
Calculating your size is no rocket science. All you need is a measuring tape, a mirror and a non-padded bra. Simply refer to our bra size calculator and determine your size in 2 simple steps.
Step1. Calculate band size
Step2. Calculate bust size/ cup size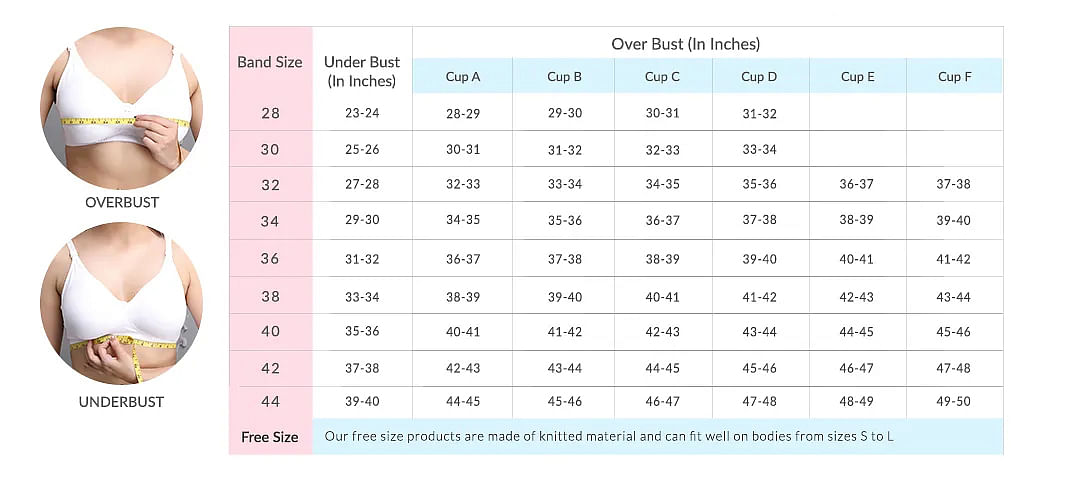 You can also use our CloviaCurve tool where we ask you some basic questions and advise you on what bra would fit you perfectly as per the size & shape of your breasts.

Now that you know what size would work for you, we hope you won't go wrong with it anytime you buy a bra.


Why Only Clovia Bra?
Clovia offers you the best bras in town as they provide you with the best fit, the latest eye-pleasing designs, trendy styles and top of everything our bras don't burn a hole in your pocket.

There is a lot of other information too that you should be well versed with. Here, we attempt to give solutions to some of the most common woes, so that you can have a happy experience.


Bras – FAQs
Q-1. Why is a well-fitted bra important?
A-1. A well-fitted bra contributes to good health as they prevent poor posture as well as other musculoskeletal problems, such as neck and back pain. This is why you must measure your cup and band size accurately. It should neither be too tight nor too loose. The ones that are too tight will cause suffocation and spillage, whereas, on the other hand, a loose fitted one will not provide enough support, making you look out of shape. For a hassle-free experience, you can use our size calculator to find size in 2 easy steps. All you have to do is measure the fullest part of your bust and underbust, and refer to our chart.

Q-2. How do you tell if a bra fits well?
A-2. Here are 5 things to help you determine the same.
1. There should be just enough space to pass 2 fingers through your straps.
2. The back band should sit horizontally straight on the back without riding up.
3. The centre gore should lie flat against your sternum.
4. The underwires should fully encircle the breasts.
5. Neither should the breasts spill out of the cups nor there be any extra room in the cups.

Q-3. How to Take Care of Bras?
A-3. Just like anything else, your bra also demands care and protection.
- If you have underwired, padded, or lacy bras, avoid machine washing them. They can twist and twirl, degrading your overall look. Try sticking to a mild detergent as it helps them last longer.
- In the case of everyday ones, you can hand wash or machine wash them at your convenience without any hitch.
- You should let them breathe. Hang them outdoors in order to keep them hygienic and moisture-free.
- There is an average shelf life of ladies bra that you must adhere to. You should replace them every 6 to 8 months in order to ensure the best fit, comfort, and support.

Q-4. How often do I really need to be replacing my bras?
A-4. Six months is considered an ideal time to replace your lingerie and re-check your size. However, if you notice them wearing out sooner or if the wire starts to poke out of the fabric, know that it's time to switch to new ones. Moreover, it also depends on your usage. The ones that are used on alternate days may wear out sooner than the ones worn occasionally.

Q-5. How is a wired bra different from a non-wired one?
A-5. A wired bra has wires under the bust that helps to provide a gentle lift to the breasts and makes them look perkier. On the other hand, a non-wired bra has no wires and takes the natural shape of the breasts while giving adequate support.

Q-6. Why does a girl wear a bra?
A-6. To provide optimum support to the breasts. Bras are designed to support breasts so that the breast tissues don't stretch over time. They minimise the jiggle that can happen while doing daily life things and prevent saggy breasts.

Q-7. Which bra is best suited?
A-7. Any bra style that fits well. However, full coverage bras are meant for daily use as they keep the breasts in comfort and maintain proper posture.

Q-8. Which type of bra is best for daily use at home?
A-8. Soft cotton bras with a full-coverage style are the best ones for daily use at home.

Q-9. Which bra is best for perfect shape?
A-9. Sports bras are considered best to keep your breasts in the best position and comfort.


Conclusion
Having that said, there is no denying that what make women bra a good one depends on three factors- comfort, size, and style. We, at Clovia, offer the best of all three aspects, so that you never have to compromise with your under fashion experience.
So, what are you waiting for? Get your hands on our bras today!