Go to bag
"Cotton Non-Wired Non-Padded Printed Bra " added to Bag.
₹ 0
Go to Wishlist
"Cotton Non-Wired Non-Padded Printed Bra " added to wishlist.
₹ 0
Bra :
As a woman, a bra is an essential part of your daily routine. That's why selecting the perfect bra becomes crucial. At Clovia, we make bra selection effortless with our Curve Fit Test, ensuring you find your true size. It becomes easier with our vast array of styles to cater to various purposes, fro
...
Read more

Why a Bra is So Important for Women?
The most essential thing in a woman's life is her bra. It's dearest to her and completes her every day. It not only helps improve the appearance but also helps in improving posture and providing support to the breasts. Bra offers comfort to your bust. The sense of comfort & security boosts self-esteem. A good bra helps distribute the weight of the breasts evenly which results in improved posture. Apparently alleviate strain on the neck, shoulders, and back. But a bra is not always as rewarding especially if you don't know the way to pick the right one. That's where Clovia comes in to make your life easier with our Curve Fit Test which helps you know your size.

At Clovia, we understand that every woman is unique, which is why our women's bras are available in a wide range of sizes, from 28 to 44F. Bras in stunning styles, captivating prints, and vibrant hues. Our collection caters to all ages, from teen bras to feeding bras, ensuring that you can find the ideal style for your specific needs. Don't wait any longer to find your perfect-fit bra. Embark on a journey of discovering the ideal bra for yourself with Clovia. Start exploring our collection today and experience the comfort, support, and style you deserve.


How to Find Your Bra Size?
Calculating your size is no rocket science. All you need is a measuring tape, mirror and a non-padded bra. Simply refer to our bra size calculator and determine your size in 2 simple steps.

Step1. Calculate band size
Step2. Calculate bust size/ cup size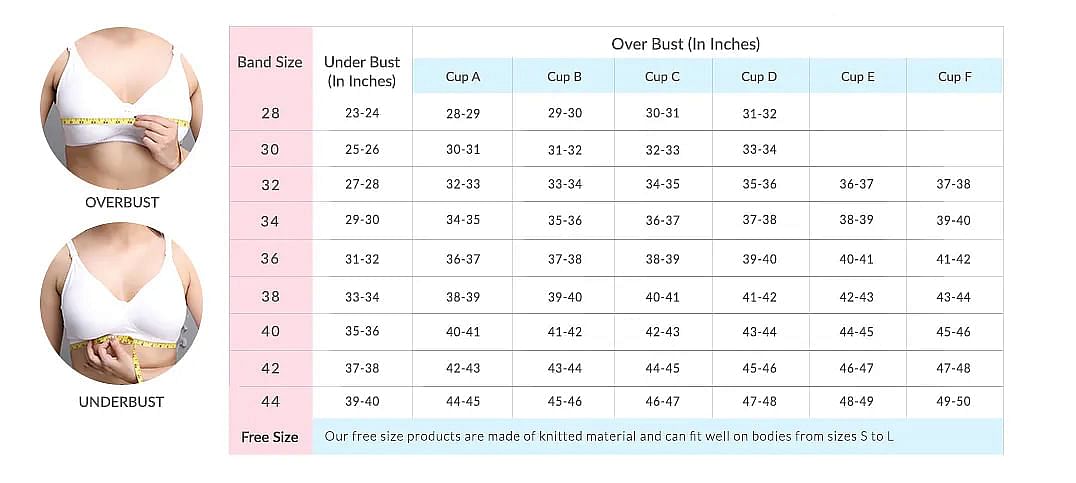 You can also use our CloviaCurve tool where we ask you some basic questions and advise you on what bra would fit you perfectly as per the size & shape of your breasts.

Now that you know what size would work for you, the next step is to determine the style you should invest in.


Know The Types of Bra
We can broadly categorize bras into two main categories: padded & non-padded. The rest of the styles fall under either category. So let's get started with styles/types of bras:
T-Shirt Bra: A T-shirt bra usually has padded, non-padded and double-layered cups to protect modesty and offers a seamless silhouette.

Push-Up Bra: Push-up bras create an illusion of a bigger bust and come in 3 levels. The cups can be wired or non-wired.

Strapless Bra: A strapless bra is designed to be worn with strapless & off-shoulder outfits. The silicone lining helps avoid slipping and side boning to stop the bra from rolling downwards.

Maternity Bra: Also known as feeding bras are great for breastfeeding moms. These bras have full coverage and an opening on the front for convenient feeding purposes.

Teen Bra: Also known as a beginner's bra, comes with soft removable pads. Teens' bras don't have any hooks & eyes for closure however they have a slip-on design for easy wearing.

Balconette Bra: A balconette bra has cups that are cut low and angled upward, providing lift and shaping to the breasts. Ideal for scoop-neck or low-cut tops.

Front-open Bra: As the name suggests, the front-open bra opens at the front and has a G-hook for closure. The coverage of cups is demi.
Demi Coverage: Demi means half, in terms of bra demi coverage, means half or ¾ coverage. This bra is ideal for an outfit with a slightly low neckline.

Full Coverage: Provides full coverage and support to the breasts, with cups that cover the entire breast and a high neckline.

Full-Figure Bra: This style is ideal for women with bigger breasts. The bra has full coverage cups with high centre gore to avoid spillage from the top & sides.

Plunge Bra: This bra has a plunging neckline, making it ideal for a deep neckline.s the cups are designed with demi coverage.

Halter Neck Bra: The strap goes over the neck and connects with the other shoulder. Or has a tie-up style where you can tie both straps behind your neck. It goes well with halter neck tops.

Backless Bra: As the name suggests, this style is ideal for a backless top. This bra has a transparent back band and a G-hook for closure.

Transparent Bra: This style is more like a backless bra but the straps are also transparent.

Bralette: Blend of bra and crop top, a bralette is longer than a regular bra, embellished with lace and comes in many different styles.

Minimiser Bra: It reduces one cup size. Make your bust look smaller and compact.

Sports Bra: A sports bra is designed for physical activity and provides high-impact support to minimize bounce and discomfort during exercise.

These are just a few of the many types of bras available. The best type of bra for you will depend on your individual needs and preferences.


The Anatomy of Your Bra
The brand changes, the style change, but the anatomy of a women's bra remains the same. To get the right bra for yourself you should know the anatomy of a bra.

Cups: Forms a structure to hold & shape the breasts, can be padded, moulded and stitched.

Band: The band covers the rib cage and holds the cups in place and most of the support comes from only its band.

Straps: They are made of elastic materials and help hold the cups in place. Straps are adjustable to provide you with a snug fit.

Hook & eye closure: The closure makes a bra the most secure. However, there are some slip-on bras which don't have hook & eye closures.

Adjuster: An adjuster helps you get the customized fitting. Usually, a bra has two adjusters on the shoulder straps. Some bras have an adjuster on the back band as well.


Shop Clovia Bras Online
Shopping for a bra online shouldn't be a difficult task. At Clovia, we have made it easy with our Curve Fit Test and an extensive collection of fashionable and comfortable bras. Our bras are crafted with high-quality materials to ensure your comfort throughout the day. What sets our bras apart is their affordability. We believe that every woman deserves access to affordable, high-quality lingerie. With Clovia, you can conveniently shop for bras online and have them delivered straight to your doorstep. Experience the ease, comfort, and style of our bras by browsing our online store today.


FAQs
Q1. Why should women wear a bra? Is it necessary to wear a bra?
A1. Yes, wearing a bra is necessary for a woman for many reasons. Breast tissues only have mammary glands and fat tissues there is no bone there. Hence without proper support, they sag. Also doing any physical activity can be difficult without wearing a bra.


Q2. How many types of bras are there? Which is best for sagging breasts?
A2. There are more than 26 types of bras. Each of them serves a purpose. To prevent sagging you should wear a full support bra. Or an underwired bra also helps with sagging breasts.
Q3. Can I wear a bra while sleeping? Does sleeping without a bra increase breast size?
A3. Wearing a bra while sleeping is not recommended. However, there is no scientific reason that you should or should not wear a bra during the night. You should not wear any tight bra during sleep as it can restrict blood flow. Sleeping without a bra does not increase the size of your breasts.
Q4. How do I know if my bra fits correctly?
A4. If your bra fits correctly your breasts won't spill from the top or sides. Your band sits flat along the rib cage without digging or feeling loose. You can insert two fingers easily in your band and it still feels snugly fit. The same thing happens with your bands. You feel comfortable in your bra.
Q5. How to measure bra size? How do I find a bra that offers good support?
A5.To find your true size take the Clovia curve fit test. This will help you find your bra size in just a few easy steps. After getting your bra size it's time to try different bras and check the fitting.
Q6. How to wear a bra correctly?
A6. The best body posture when wearing a bra is to lean down. You should always hook all the clasps of the bra and make sure it's neither too tight nor too loose. You should always make sure that the straps are adjusted according to your shoulder. Lift and adjust your breast fat to fit in the cups perfectly.
Q7. Which bra goes with all outfits?
A7.A bra which is versatile and can be worn with many outfits is a t-shirt bra with detachable straps. T-shirt bras come in both padded and non-padded cups. Choose what suits you.
Q8. Which bra should I wear daily?
A8. A non-padded and non-wired T-shirt bra can be worn every day.
Q9. When was the bra invented? What is the full name of a bra?
A9.The modern bra, as we know it today, was invented in the early 20th century. The exact date and inventor of the bra are subjects of some debate, as different versions of breast support garments have been used throughout history. One significant milestone in bra history is the patenting of the "brassiere"(full name of bra) by Mary Phelps Jacob in 1914. She designed a garment made of silk handkerchiefs and ribbons, which provided an alternative to the restrictive corsets commonly worn at the time.
Q10. What type of bra should a 13-year-old wear?
A10. Teen girls should wear teen bras or beginner's bras. This bra is crafted with very soft materials and doesn't have hook & eye closure. It comes in an easy-to-wear slip-on style. The bra has removable cups to protect modesty.
Q11. Which bra is best for a heavy breast?
A11. A full-figure bra is best for heavy breasts. It has high centre gore and side wings. The cups provide full coverage to prevent bras from spilling. The back band is also wider than the regular one. Even the straps are wider.
Q12. How often should I replace my bras?
A12. Your breast size changes every six months. You should get a fit test done to get your new bra size. If it has changed then you must replace your old bras. If the size is still the same then you must replace your old bras within a year.
Q13. How to take care of your bras?
A13. Do not machine wash your bra? Air dry them, do not dry them under direct sunlight for longer. Use mild detergent to wash them. Don't hang your bras in the wardrobe rather organize them in a good manner so that pads won't get creases. Do not iron your bra.