Cotton Low Waist Bikini Panty
Cotton Low Waist Bikini Panty
₹ 299
(*GST will be applied on cart page)
Non Returnable i For reasons including hygiene, we do not accept return or exchange of panties, shapewear panties, or an opened box of a multi piece set that includes panties.
Discreet Packaging
Need Help? Call 0120-484-2200
This is a purple-coloured bikini panty which is considered a great choice for a low-waist fit. Made with the softness and stretchability of cotton spandex fabric, it offers an experience of comfort all day long. Further, it caters to the needs of medium coverage quite well. Soft elastic alongside its waistline and leg openings not only enhances comfort value but also ensures a great snug-fitting experience. For the purpose of hygiene, it comes with a double-layered gusset.



Match the set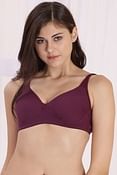 Cotton Rich Non-Padded Non-Wired Bra with Double Layered Cups In Purple
₹ 349
Save For Later
Rating & Reviews