Lingerie Related Conversations Every Girl Has With Her BFF

For every girl who grew from being a little princess to a queen, you've surely had many confusions, doubts and questions about the lingerie you should wear. You may have had these initial conversations with your mom but now, most of you have a BFF, the one who is always there for helping you out with all your life drama and lingerie dilemma. Here are some oh-so-relatable conversations every girl has had or will surely have with her BFF at some point of time in her life.
1. I'm moving on
So this is when you've just moved into your adolescent self and have started noticing changes and now, you need to get away from the hand me down lingerie or mom picked lingerie. This is when your BFF jumps into the picture. What lingerie should I start wearing? Should I go for something more revealing or go for comfort above all? Whatever may be your moving on doubts, I'm sure you and your BFF will deal with it with ease. You can look for really good lingerie options at Clovia that are great options for beginners.
2. Should I try something new?
Now is the time for experiments. We can't always stick to one style forever, right? It's always good to keep experimenting with your look and try on something new every now and then. You need to kiss a couple of frogs before you meet your prince. But, it may not be easy for all of us to do so and we need our BFF. From discussing styles to colours and designs, we spend hours checking out different lingerie and discussing every look. Should you go for lace cotton, pick basic T-shirt bras or the latest bralette trend, the decision making just becomes smooth with your BFF around. This comes easy with Clovia, as we provide you with a plethora of options to choose from for every outfit you own.
3. Size is starting to matter
No no, I'm not talking on those lines, although that's always open to discussion with your BFF (what are BFFs for?), I'm talking about the times when you seriously need to get your lingerie sizes right. You may be suffocating your breasts or even have your lingerie slipping every now and then. Asking your BFF about what she thinks about your size and how can you get the right size for yourself will prove to be a game-changer for you without a doubt. But just in case your BFF is as clueless as you are regarding how to find your bra size, what are we for? Find your Clovia Curve in 2 mins and share it with your BFF too.
4. What do you think?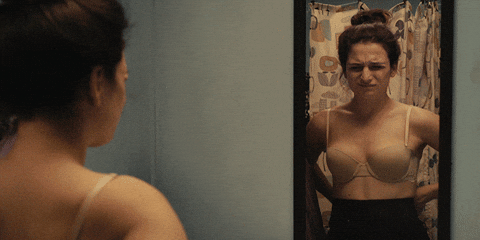 You have your first date ever! Or you are going to meet this guy that you are really into and want him to drop dead the first time he looks at you, for all your reasons, you need a partner to help you wear the right lingerie for that sexy dress you plan to don. Trying out different lingerie and asking your BFF if it seems right is like the conversation you need at some moment. Your BFF might just help you win the guy of your dreams!
5. I'm gonna wear thongs/G strings
This is a huge step or a rather rare step for most Indian women. Moving to or trying out thongs and G-strings from your regular panties might be a very doubtful change but why worry when you have a BFF to help clear your doubts? So the 'thong' conversation will be something at least a few women will surely have with their BFF and that'll surely help you move ahead with confidence.
6. Help Me Please!
Hooking on a bra can be a task for a lot of girls, especially the newbies..
7. Fake It Till You Make it
While all breast shape and sizes are beautiful, no two women have exactly the same set of breasts. That's where the discussion starts and size starts to matter. Too big or too small, we have our own issues with them.
In your journey to find the right lingerie for yourself, you have another BFF. Hello, how could you forget us? We at Clovia are always ready to help you in finding what you need to feel better & look awesome. Head to www.clovia.com and let's start this relationship on the right click.

Inspired by life stories that change the world, Chirag is the ambitious kind.
He is a great movie buff and bollywood freak.
He is always fascinated about food, fitness and fashion which makes his life a complete adventure. Apart from writing blogs, he also has a deep interest in acting and dancing which makes him a complete package.

Latest posts by Chirag Kapoor (see all)