Low Waist Animal Print Bikini Panty
Low Waist Animal Print Bikini Panty
₹ 299
(*GST will be applied on cart page)
Available Sizes
Non Returnable i For reasons including hygiene, we do not accept return or exchange of panties, shapewear panties, or an opened box of a multi piece set that includes panties.
Discreet Packaging
Need Help? Call 0120-484-2200
Black low waist animal print hipster panty with medium rear coverage.
Crafted with smooth polyamide fabric that fits like second skin.
Soft elastic at the waistband & leg openings for a snug fit.
Double layered gusset for hygiene.



Match the set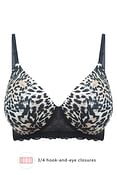 Animal Print Padded Non-Wired T-Shirt Bra in Black
₹ 799
Save For Later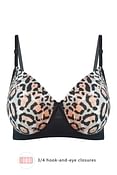 Padded Non-Wired Animal Print Multiway T-Shirt Bra
₹ 499
Save For Later
Rating & Reviews