Go to bag
"Cotton Non-Wired Non-Padded Printed Bra " added to Bag.
₹ 0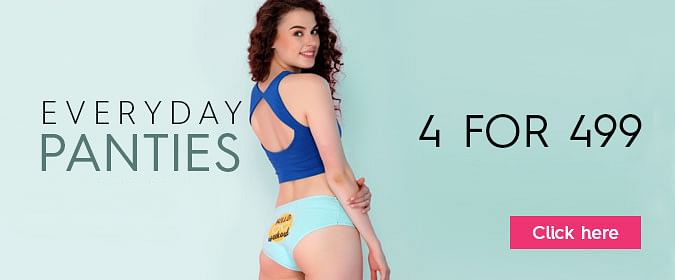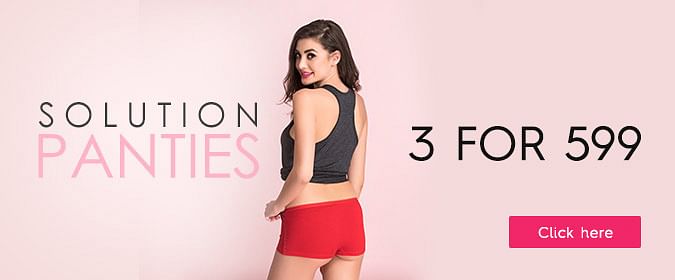 Panties : Whether you are looking for comfortable boy short and cotton hipsters or lacy bikini panties and animal print thongs, Clovia has a range of women's underwear to suit every style preference. Choose from a wide range of fits and styles to suit your ensemble.
Buy Panties Online
Panties for Women - The Style Guide
Women are usually very concerned about their outerwear, but little do they realize that wearing the right garments underneath is also equally important. Gone are the days where ladies panties were simply essentials. With the ever evolving trends and patterns, women's underwear has undergone massive makeovers, which is capable of enhancing your overall appearance. When paid attention to, ladies undergarments can help you make a statement in your favourite outfits.
We, at Clovia, understand the changing trends and thus we have curated a wide range of women's underwear, suitable for every purpose and body type. We have broken the monotony of those basic blacks, whites, and nudes with our stylish panty designs in amazing colours and patterns. You can also go through our panty size chart to get the perfect fit and style without any woes.
If you still need a little guidance on the various types of ladies panties and what would be best for you, we got you covered below with all the panties available at Clovia.
1. Bikinis: Bikini is the ladies panty style that immediately strikes our mind when we think about the gorgeous sandy beaches and crystal clear blue waters. Well, the good news is that you can wear these stylish women's briefs on an everyday basis too other than barely as beach wear.

Tip: Ideal for low-cut jeans or for women who want to flaunt their hourglass figure.

2. Thongs: Having no rear coverage with a triangular shaped front, thongs are also highly functional if you want to avoid visible panty lines under body-hugging outfits.

Tip: These ladies panties offer a very clean and smooth silhouette even under tightest of outfits, boosting your overall confidence.

3. Hipster: Hipster is the most common women's underwear, thanks for its ability to fit all body types. Hipsters provide decent coverage to the crotch and rear area, making them the best option for everyday wear.

Tip: If you have a slightly bulging tummy, you should opt for high waist hipsters as they help to control the bulges, providing a flattering figure.

4. Boyshorts: They provide a full coverage to the rear area which goes all the way down the hips, keeping it modest yet sexy.

Tip: Not comfortable with wearing thongs under bodycon outfits? No problem! Try boyshorts instead. Boyshorts are basically the female version of the boxers with an amazing fit.
Know what's right the right ladies undergarment for you now? Then wait no more and shop right away!
Panties FAQs:
Q.1. How do I know the perfect size of my panty?
A.1. To know the perfect size of a panty, the first step is to determine the hip size. In order to do so, one can wrap the tape measure comfortably around the widest part of the hips and note that number. Further, one has to refer to Clovia Panty Measurement Chart and use the measurement to find the perfect fit.

Q.2. What is the difference between a G-string and a thong?
A.2. A thong is an undergarment which can be worn in the form of either underwear or swimsuit. On the other hand, G-string is a type of panties which is worn to hide the panty line and to enhance sex appeal. Thongs are particularly designed to hide sensitive areas whereas G-strings solely serve the purpose of making female look attractive.

Q.3. What fabric should I pick for panties?
A.3. Cotton is the best fabric to choose for panties for everyday wear. This fabric works best for Indian climate which is mostly hot & humid. In such weather conditions cotton panties work the best; they not only absorb moisture away but also maintain breathability. Moreover, the softness and stretchability of cotton fabric make it extremely comfortable for regular use.

Q.4. What is a period panty?
A.4. Period panties are crafted for a stain-free and leak-free experience. They are designed with a coated fabric that covers the targeted areas -front, back & crotch to give adequate leak proof coverage.

Q.5. What panty to choose for my body type?
A.5. High waist hipsters work best for women with an 'apple body' type, the high rise provides tummy coverage and broader sides tone the bulges. However, for a pear-shaped body, it is suggested to try out hipsters and boyshorts. Traditional bikini style is a popular choice amongst rectangular body types. Although women with hourglass figure are blessed with a figure that doesn't need to restrict to any panty type.